The Task Import tool allows you to import all tasks scheduled for a project into project resourcing at once.
Content
Import File
Import tasks
Download Import excel
Delete all tasks
Description
Sometimes it is necessary to plan project tasks on a separate excel file. The task import file allows you to import all tasks at once into the selected project's resourcing, regardless of the sales pipeline. After import you can edit tasks as needed, and assign them to users.
Plans: Project management, ERP
Available as an add-on for: Free CRM, Sales CRM
Permissions: Resourcing
Import File
The Import File is an excel file, to which you can attach project task information, and thus form tasks with information to assist in project resourcing.
Import Files are project-specific.
Open the project you wish to assign tasks for

Select Project Resourcing tab

The Options button opens a menu where you can select actions for the tasks.
Import template: Import an Import File with all task related information into Taimer

Download Import excel: Download the task Import File to be filled and completed

Delete all tasks: Delete all tasks created for the project manually, or through an Import File

Import Tasks
The Import tasks button opens a window, which will help you import the task Import File to Taimer.
Phase 1.
Download file :
Drag and drop or select from file the import file, filled with task information

Click on Continue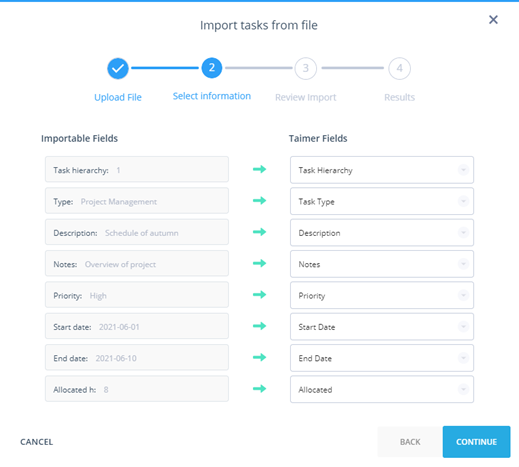 Phase 2.
Select information:
Align the fields in the import file to the task fields.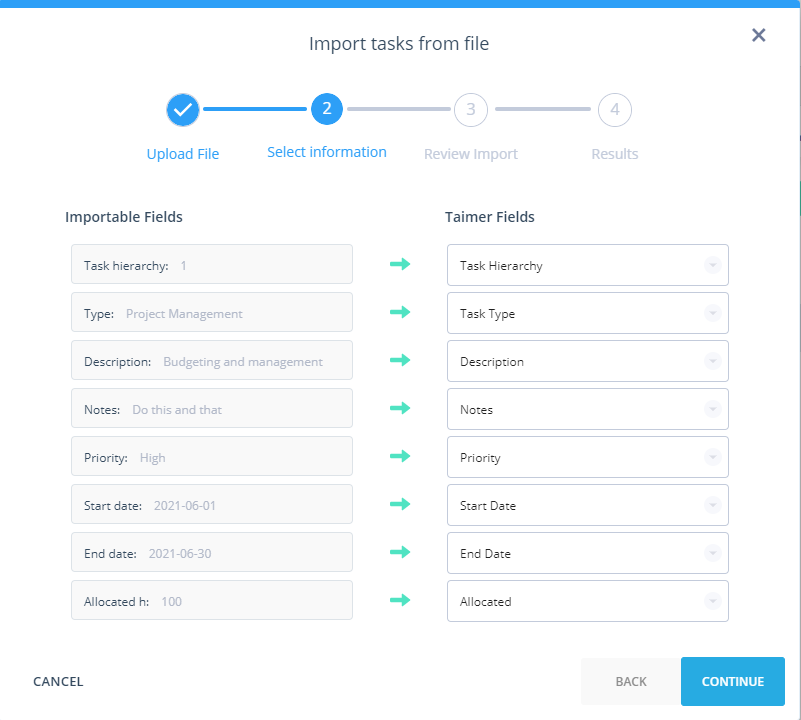 Make sure that the columns match the fields on the task card

Click on Continue
By default, the columns in the import file are assigned to fields on the task card with the same name.
Phase 3.
Review tasks: Check that the tasks to be exported are correct.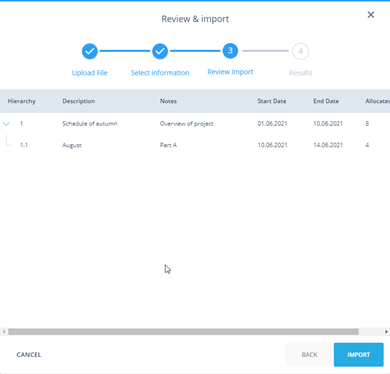 If you notice anything that needs to be fixed:
Click on Cancel

Change the information in the Import File

Import the file again
If everything is correct
The tasks will then be brought into project resourcing.
Finalise the import in the Import tasks through file window.

Download import excel
Download the excel file to your own computer.

The import file is an excel file, which helps you define for the task:
Hierarchy

Task type

Description

Internal message

Priority

Start day

End day

Allocated hours
Allocating tasks to users should be defined in project resourcing separately, by task, or from the Tasks list view in bulk.
Note!
To define task hierarchy, Activate subtasks must be activated in settings.
(Settings > Property Settings > Resourcing)
Delete all tasks

This function allows you to delete all existing project resourcing tasks.
Note! Deleted tasks cannot be recovered.