Learn how to manage meetings, calls and other sales and project-related activities in Taimer.
Content
Add activities in Taimer

Add activities from top

Add activities from the account card

Add activities from the project card

Add activities from the Taimer chat
Description
Activities are reminders that can be set up to follow up on scheduled meetings, calls, emails, etc. Activities can also be a log of events that have occurred for a given account or project. It is also a tracking medium for project owners to follow up on sales activities, set due dates and monitor progress.
You can get an overview of all your activities in the topmost section of your Taimer dashboard.

Adding an activity
When creating a new activity remember to update the following details:
Choose the type of activity- note, email, call, etc.

Add a description

Choose the date for the reminder (optional)

Select the account/project

Add the contact person

Choose the user or the activity owner
Adding an activity from the header
Navigate to the right corner on the top

Click on + - icon

Click on Activity

Choose the relevant activity and update the details

Click on save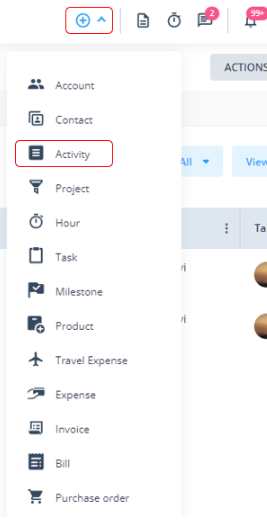 Adding an activity from the account card
Navigate to Accounts on the sidebar

Click on an account or the more options icon (...) to open the account

This will take you to the account card for the selected account

Navigate to Details and select Activities


To add a new activity, Click + - icon


Fill in all details to opening slider

Save
Adding an activity from the Project card
Navigate to a Project from the Projects page/Pipelines

Click on the project
→ This will take you to the project card

Navigate to Home and select Activities from the list

Click green the + icon


Update details

Save
Adding an activity directly from Taimer Chat
Navigate to Taimer Chat in the header next to your profile



Go to Projects

Choose the discussion/project for which the activity needs to be created.

Click on the ellipses symbol (...) next to a message

Click on Activity

Update the details to create a new activity

Save