Get a complete view of your recognised sales in one view by account and project
Content
Permissions for Revenue Recognition Report

Reports
2.1 How to find the report
2.2 Data shown in report
2.3 Project details, invoiced sum and invoice numbers listed
2.4 Months displayed (fiscal year) with recognised revenue
2.5 Comments and owners
2.6 Export to Excel
Description
Use the Revenue Recognition report to get a 360° view of all your accounts performance. Export file to dig deeper.
1. Permissions for Revenue Recognition Report
Go to Permissions and navigate to the Reports permission section. There you will find the Revenue Recognition permission. Give access to users or groups.

2. Reports
2.1 How to find the report
Find the revenue recognition report through the Reports Tab in the navigation top bar. Click to view reports and navigate to the Recognition sub-tab.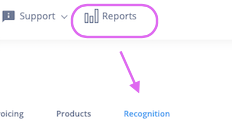 2.2 Data shown in report
The report shows you account and project-based revenue recognised by month. You can also leave a comment or message by project, and it will be visible on the report.

2.3 Project details, invoiced sum and invoice numbers listed
In the report, the account, project, invoiced total, invoice numbers and recognised sum are shown in their own columns.

2.4 Months displayed (fiscal year) with recognised revenue
The monthly recognised revenue totals for the fiscal year can be seen on the report as well.

2.5 Comments and owners
View comments added by project. Project Sales agent and Project Manager are displayed in the report.

2.6 Export Excel
You can select to download the report. This is useful especially, if you need to send to accounting or dig deeper.