Learn how to create permission groups to provide access to a group of users, teams, users with specific professional titles, & supervisors.
Content
Give Administrator access to users

Create user permission groups

Add users to dynamic groups

Create teams and add team members

Group users according to their professional titles

Assign supervisors to employees
Description
Permission Groups are collections of users and/or other groups. A change in the access rights assigned to a group is automatically applied to all users in that group. It is recommended that companies with multiple users should create separate user groups and assign permissions to groups rather than individual users.
User permission groups in Taimer
Your Taimer account by default has a few pre-existing user groups such as Administrators, Design, Production and other dynamic groups like Account Team, Account Manager, Project team, Project Manager, etc. Apart from these, you can build your own user groups from here as explained in the later section of the article.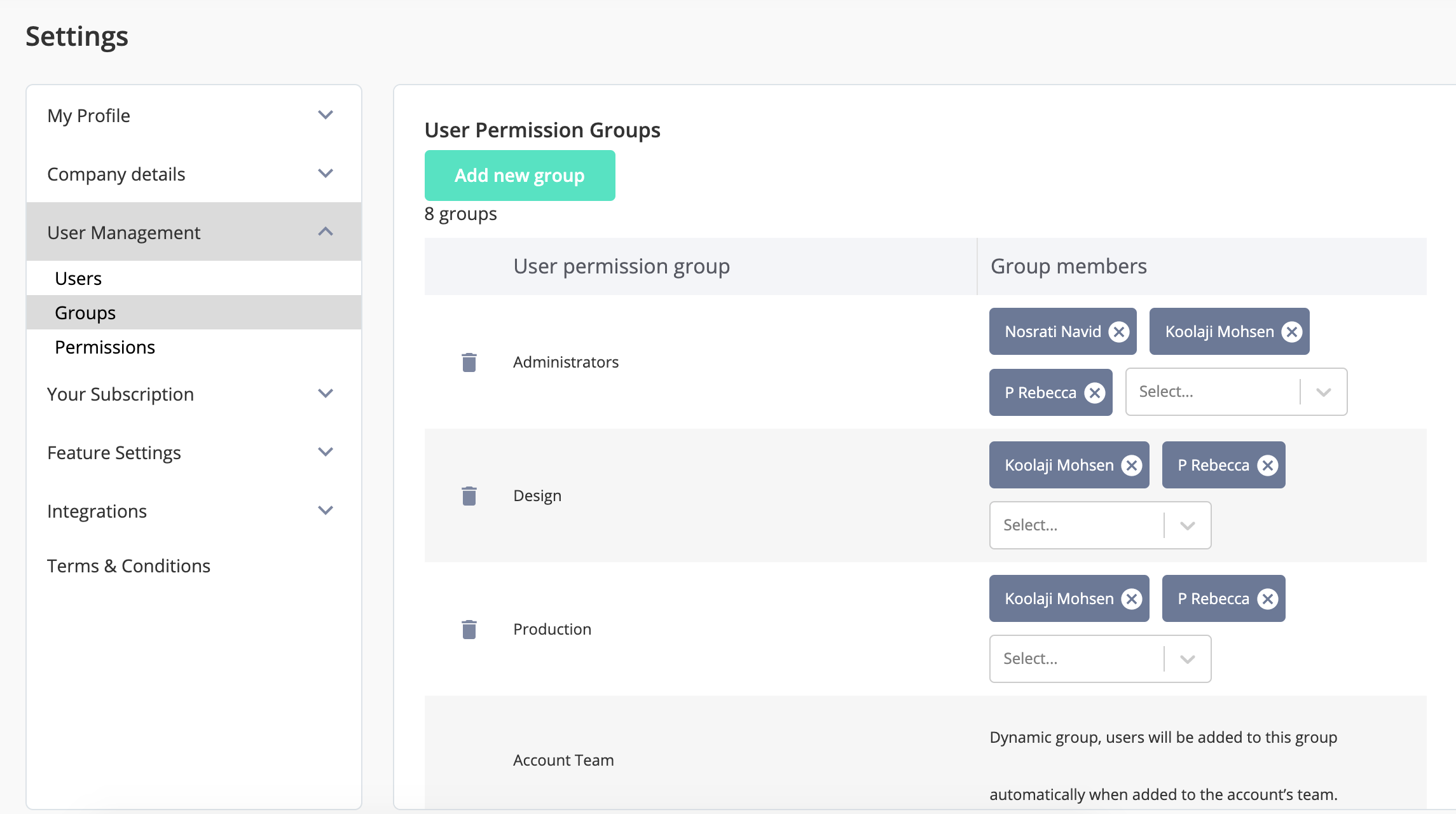 Default user group- Administrators
When you open a new Taimer account, you are automatically added to the Administrators User Group.

The Administrators group has access to all key features available for the plan purchased. If you add a new user to the Administrators group, they will have the same access rights in Taimer.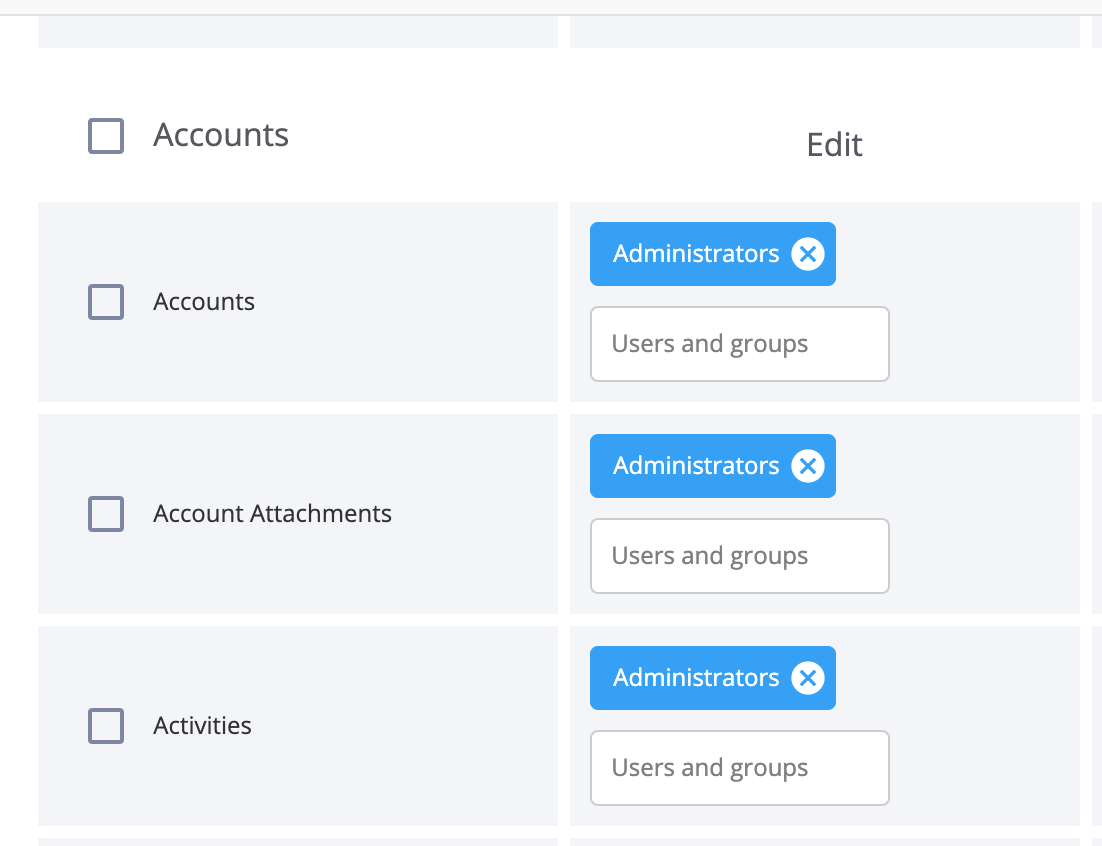 NB! Access to Administrators group is different from providing Admin access to a user from the Permissions page. Having Admin access only allows the user/user group access the various settings in Taimer. They still need to be given permissions for all other features unless they are already part of the Administrators user group.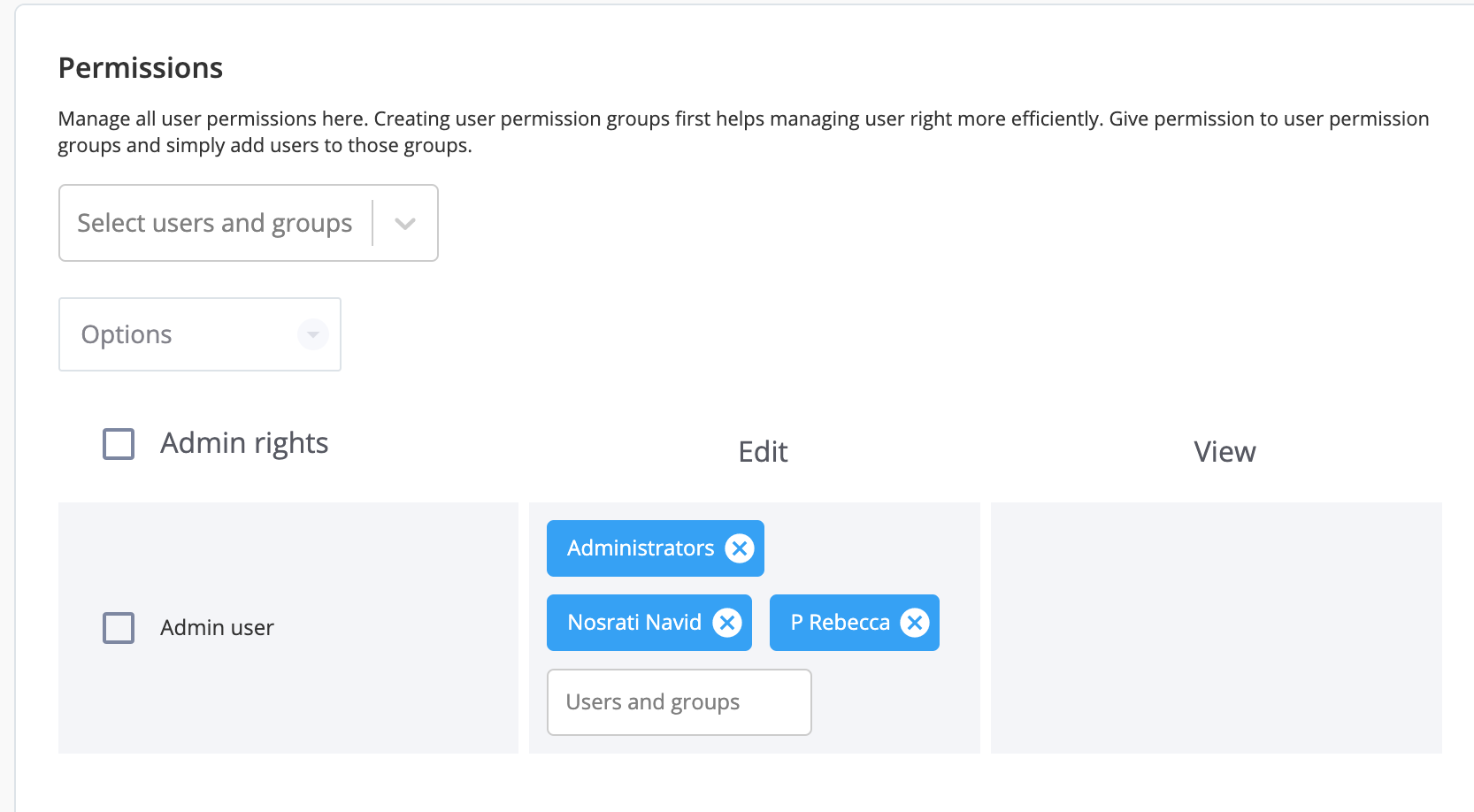 Dynamic user groups
We have also created a few dynamic groups in the User Groups settings. These are Account Team, Account Manager, Project Team, Project Manager and your Company Account.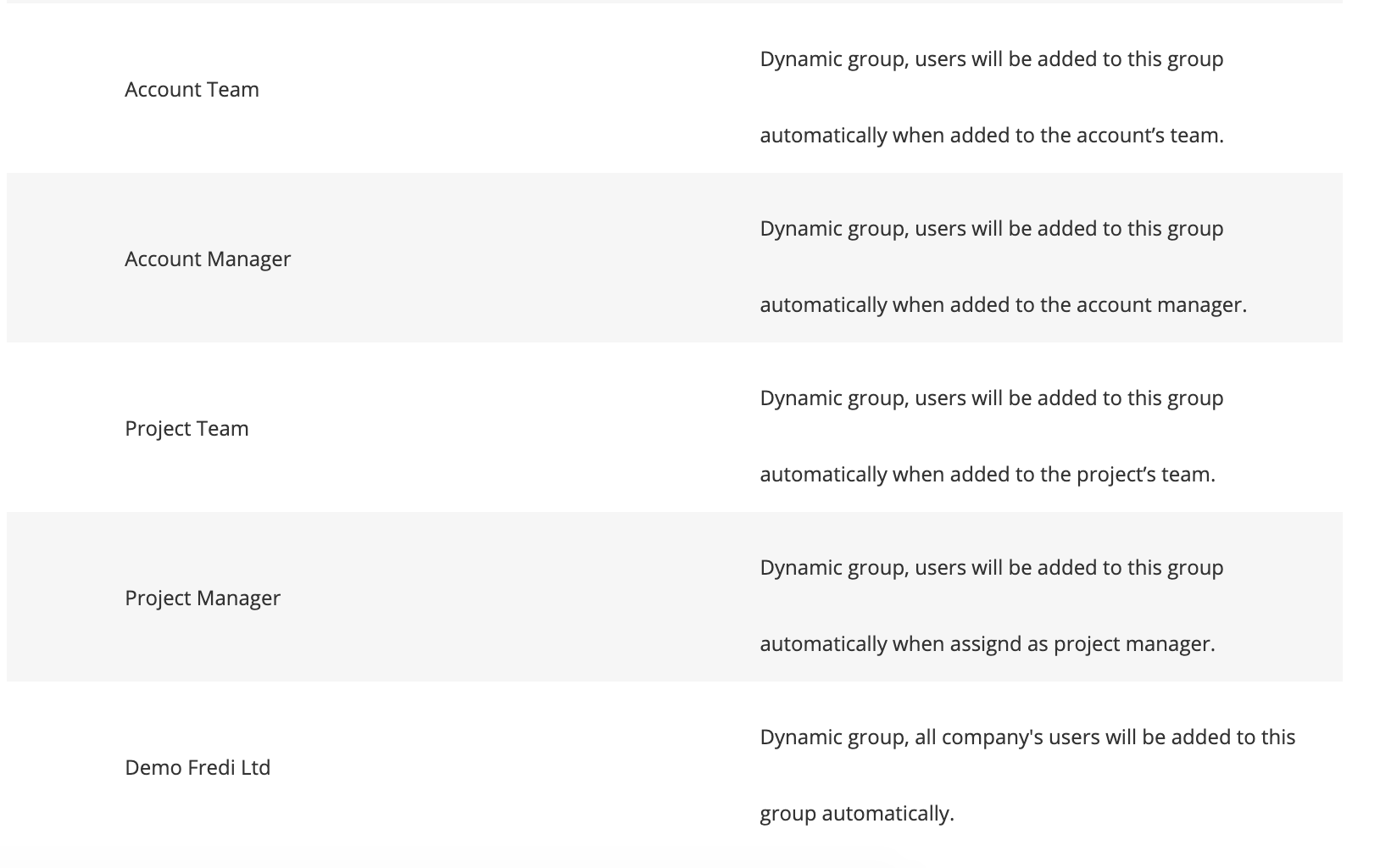 When a user is added as an Account Manager or to the account team from the account card, they are automatically added to the Account Manager group or the Account Team group respectively.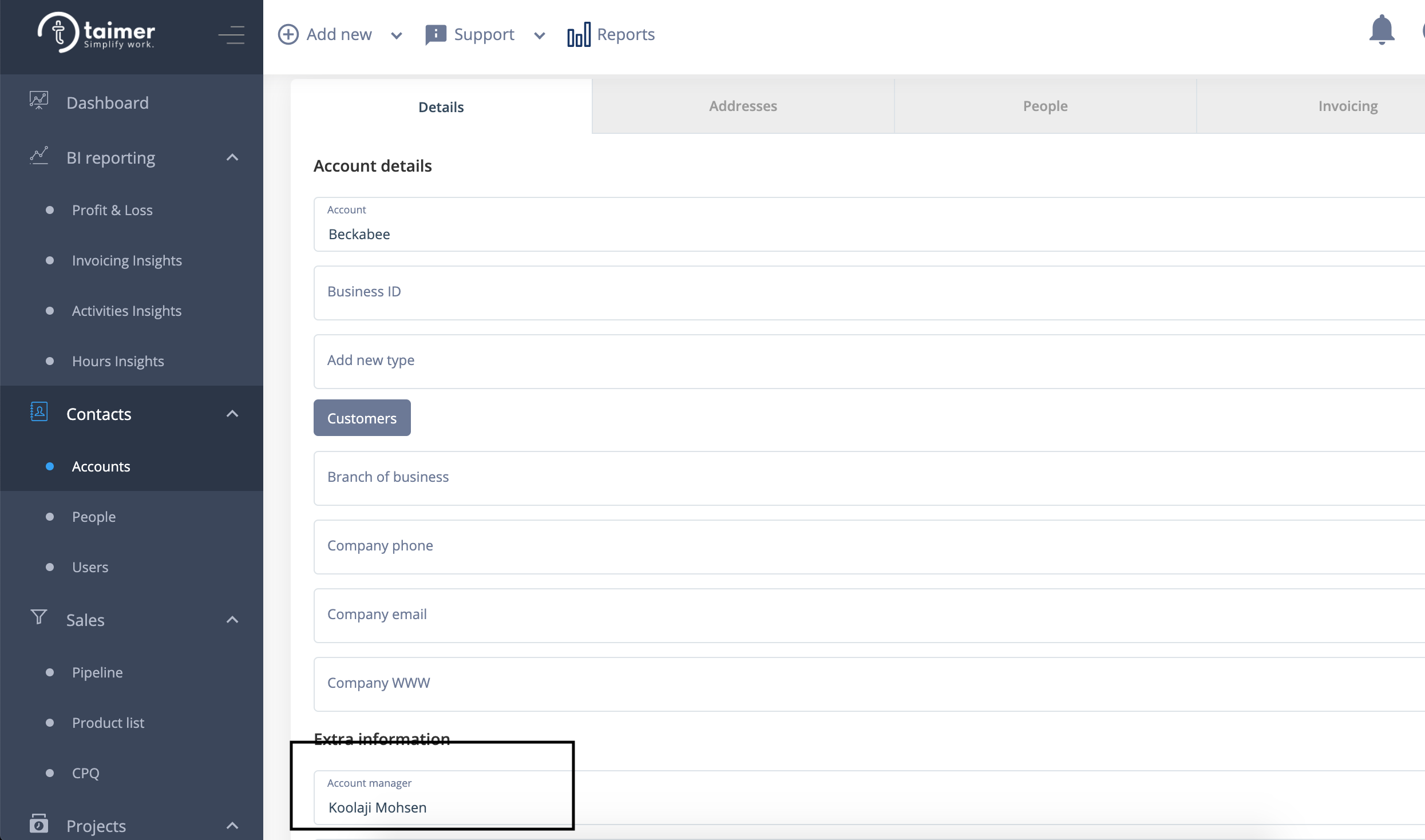 The Account Manager and Team groups are visible in Permissions under the Accounts feature. All users in these two groups will automatically have access to the Accounts features for which access has been provided.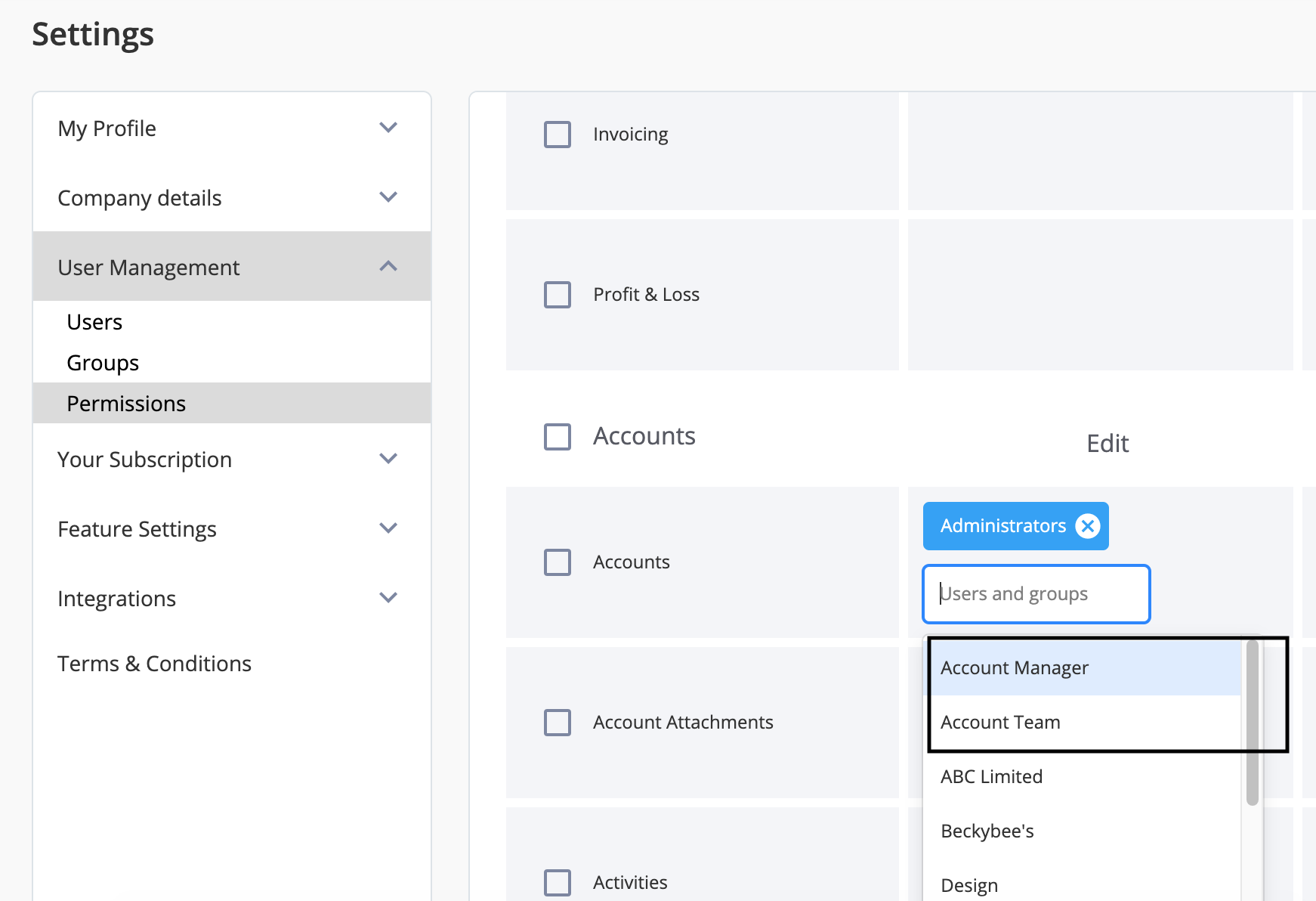 Similarly, when a user is added as a Project Manager or to a project team from the project card, they are automatically added to the Project Manager group or the Project Team group respectively.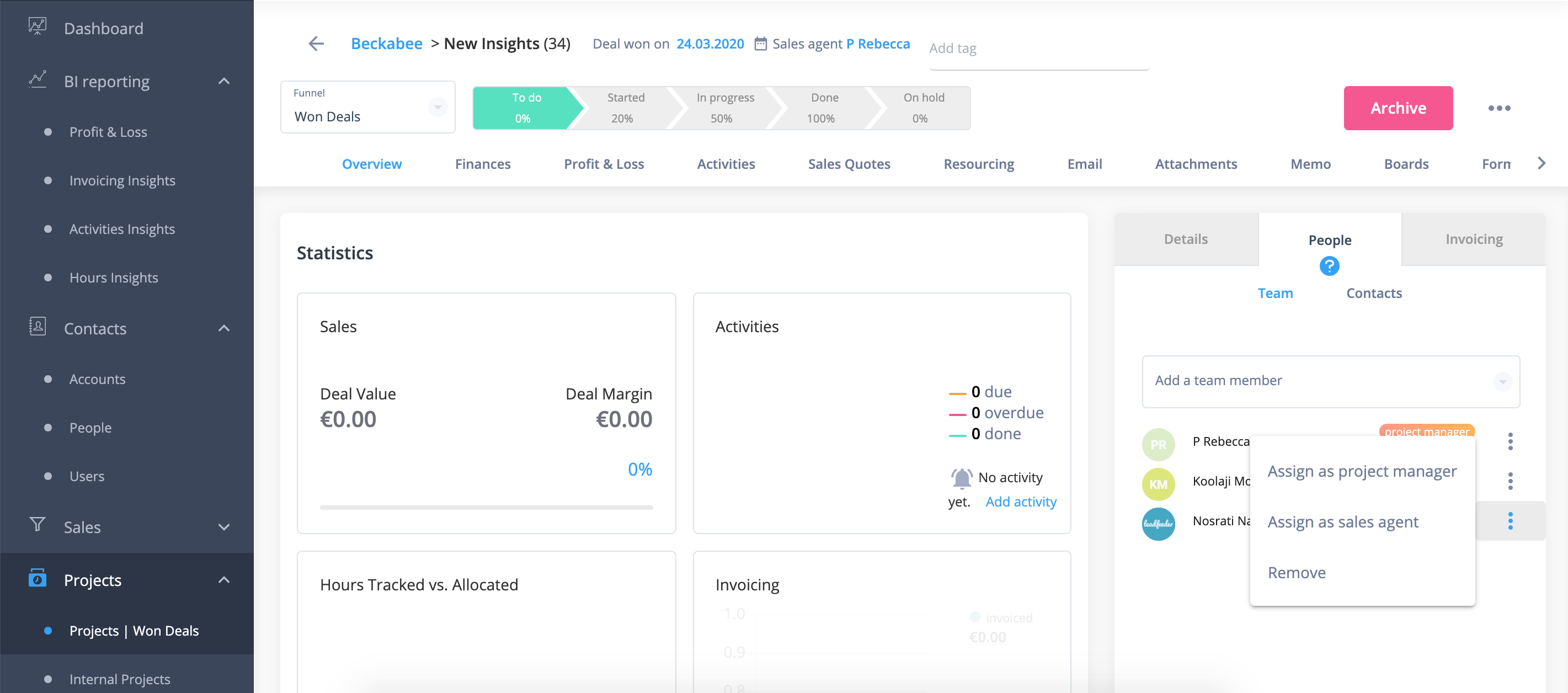 These groups will be visible for the Projects features in the Permissions page. All users in these groups will automatically have access to the Projects features that they have been given access to.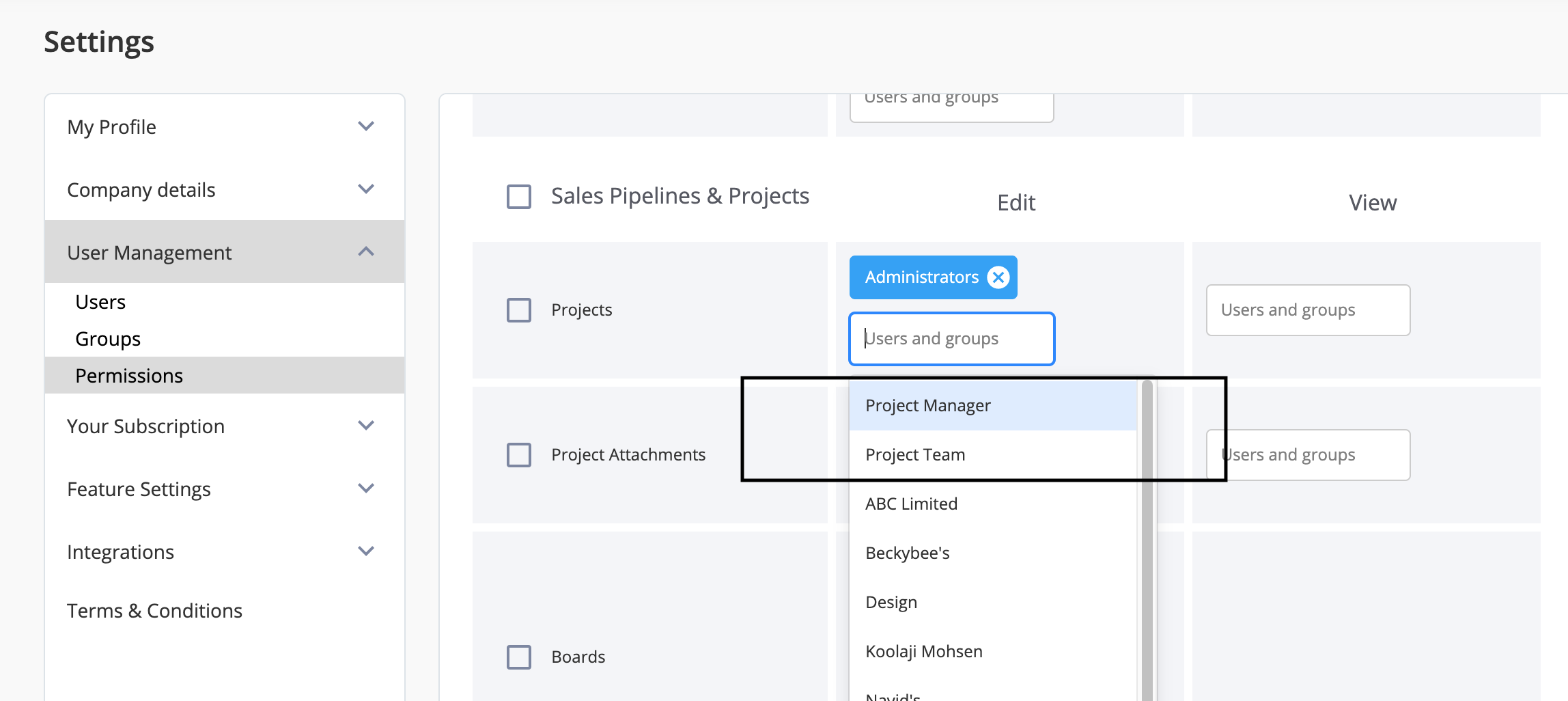 How to create new user permission groups
User groups can be defined as Accounting, Project Managers, Sales, Production team, etc. Access to the different features and functions in Taimer can be provided to these groups from User Permissions.
To create a new user permission group:
Navigate to your profile on the right

Click on Settings

Go to User Management

Go to User Permission Groups

Click on Add new group

Give the group a name

Select the users from the dropdown and add them to the group.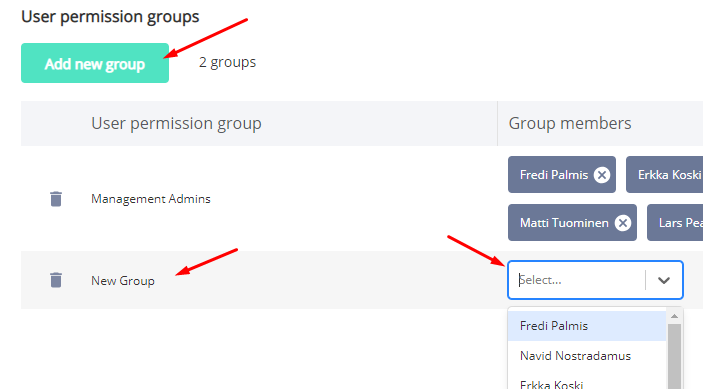 How to create corporation groups
If you manage multiple companies and would like to provide them access to specific reports and functions in Taimer, you can create separate groups for each corporation and then add these corporations to the permissions page for the specific feature access.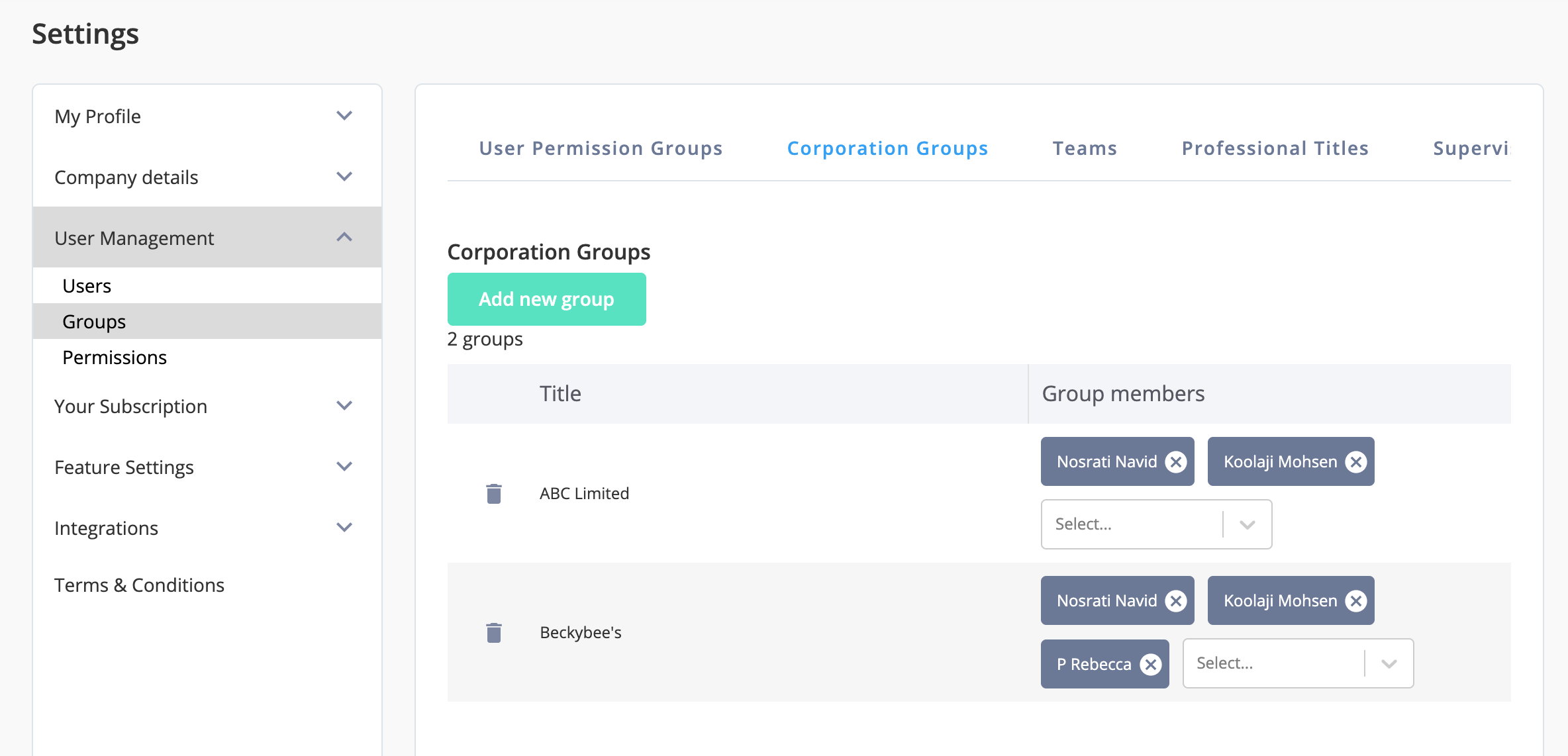 How to create groups for Teams
If you manage multiple teams, such as sales, marketing, customer support, accounting, etc. you can create teams and add the team members to the group. You can use the teams given here to give permissions and even for reporting and resourcing purposes.
NB! Teams created here are different from the Account team and project team created in the Dynamic user permissions group.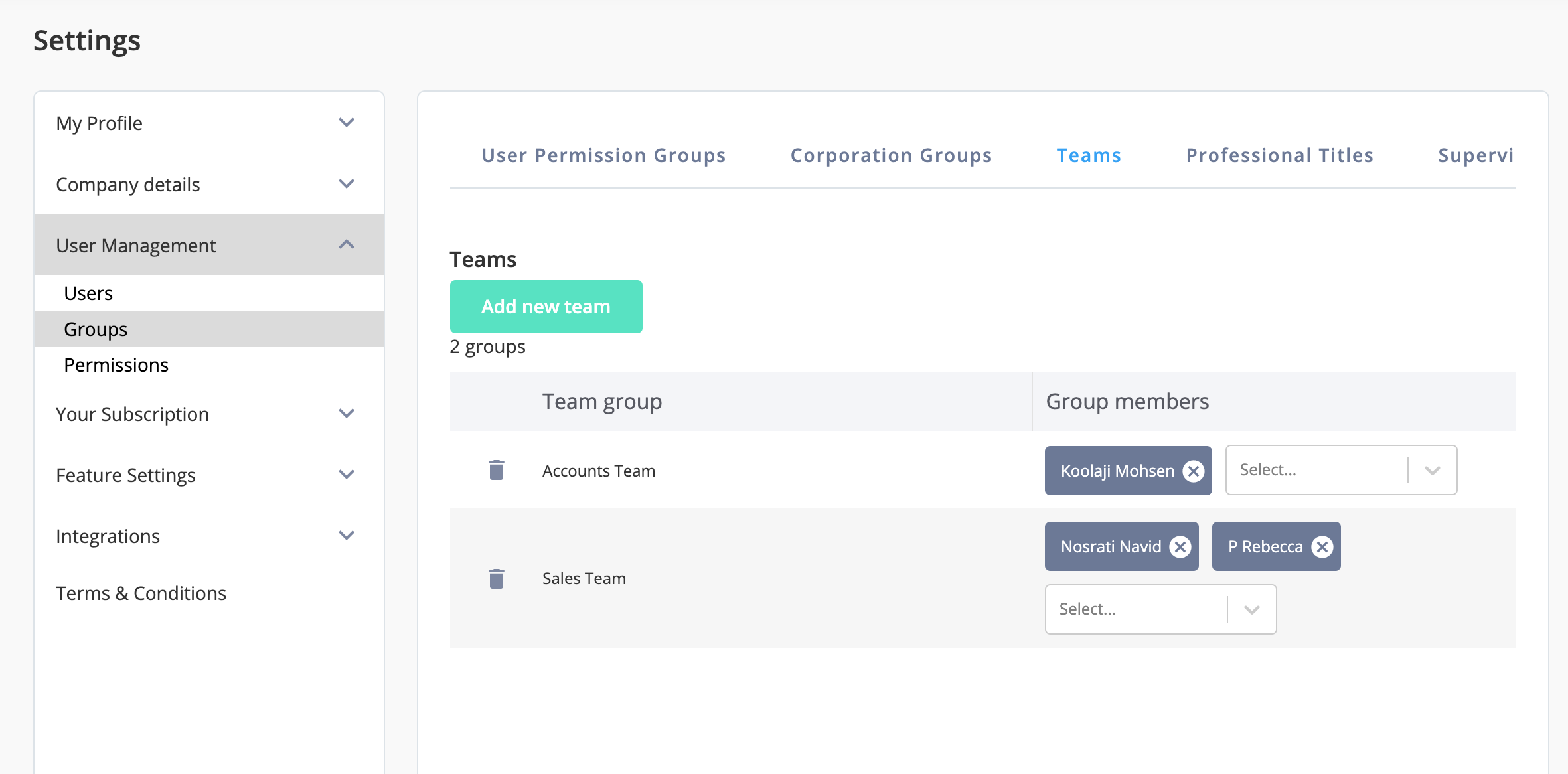 How to group users with similar Professional Titles
Create professional titles and assign them to users. You can even assign professional titles to users individually when adding a new user. These are helpful when assigning hourly rates or for providing access rights.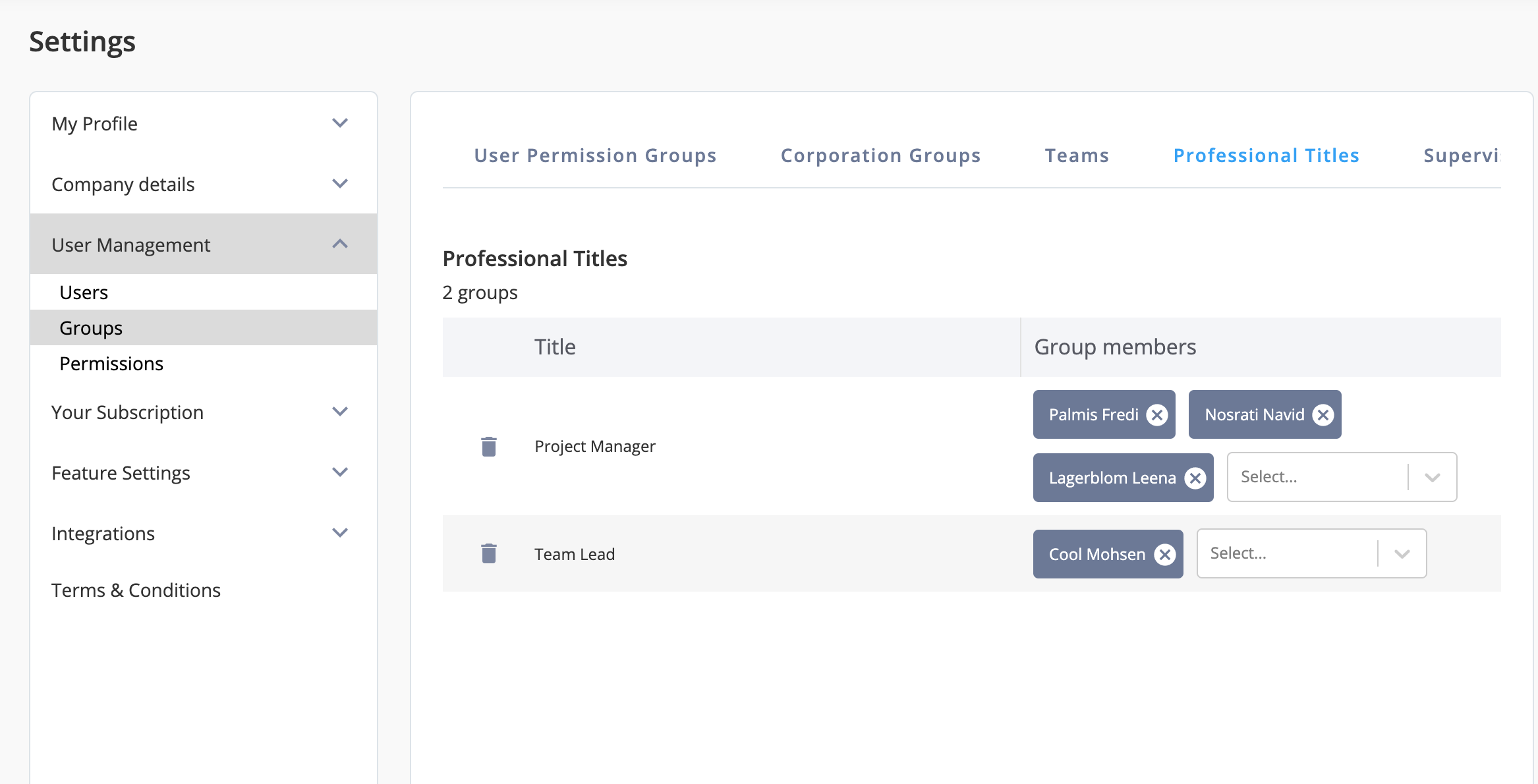 Supervisors
You can select supervisors and assign employees to them from here. When supervisors are given access to specific functions and features in Taimer, they can view the reports for all the employees under them.

This is especially helpful when viewing timesheets and for receiving overtime and work hour balance notifications.
NB! A supervisor is different from project manager. A project manager has to be assigned to specific projects. They are then automatically added to the Dynamic group-Project Manager as explained in the earlier section of the article. A supervisor on the other hand has specific employees under them.