Learn how to use Taimer's invoicing template to create an invoice in just a few clicks.
Content
Create an invoice from scratch using a blank template

Add products to an invoice

Add pricing from the CPQ module

Send an invoice
Description
In Taimer, you can create an invoice using a template, or for existing projects using project details such as hours, expenses, bills, and quotes.
How to create an invoice with a blank template
Navigate to the invoicing feature page and select 'invoice using a blank template' if you're looking to create an invoice from scratch.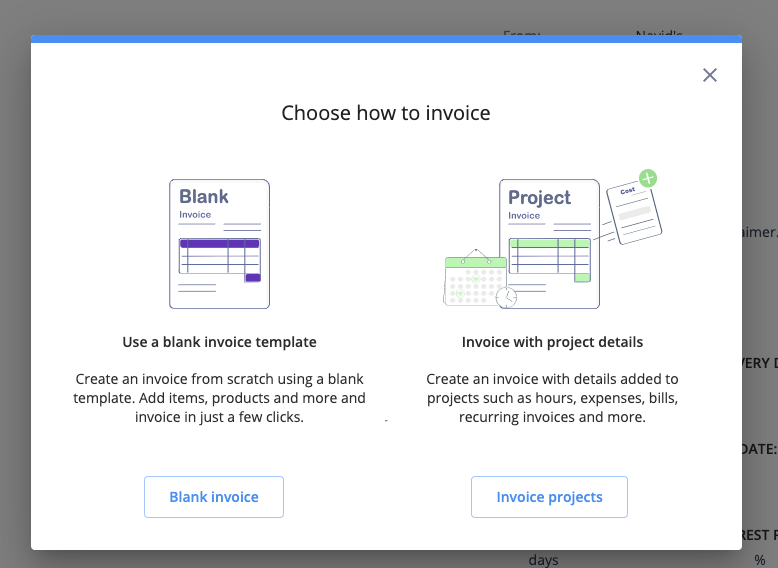 You can update all the invoicing details directly in the template here.

Click on the logo icon to upload your company logo. Now enter your company details and invoicing details such as invoicing date, invoice delivery date, due date, and the rest of the fields. The company details are automatically updated in the invoice footer.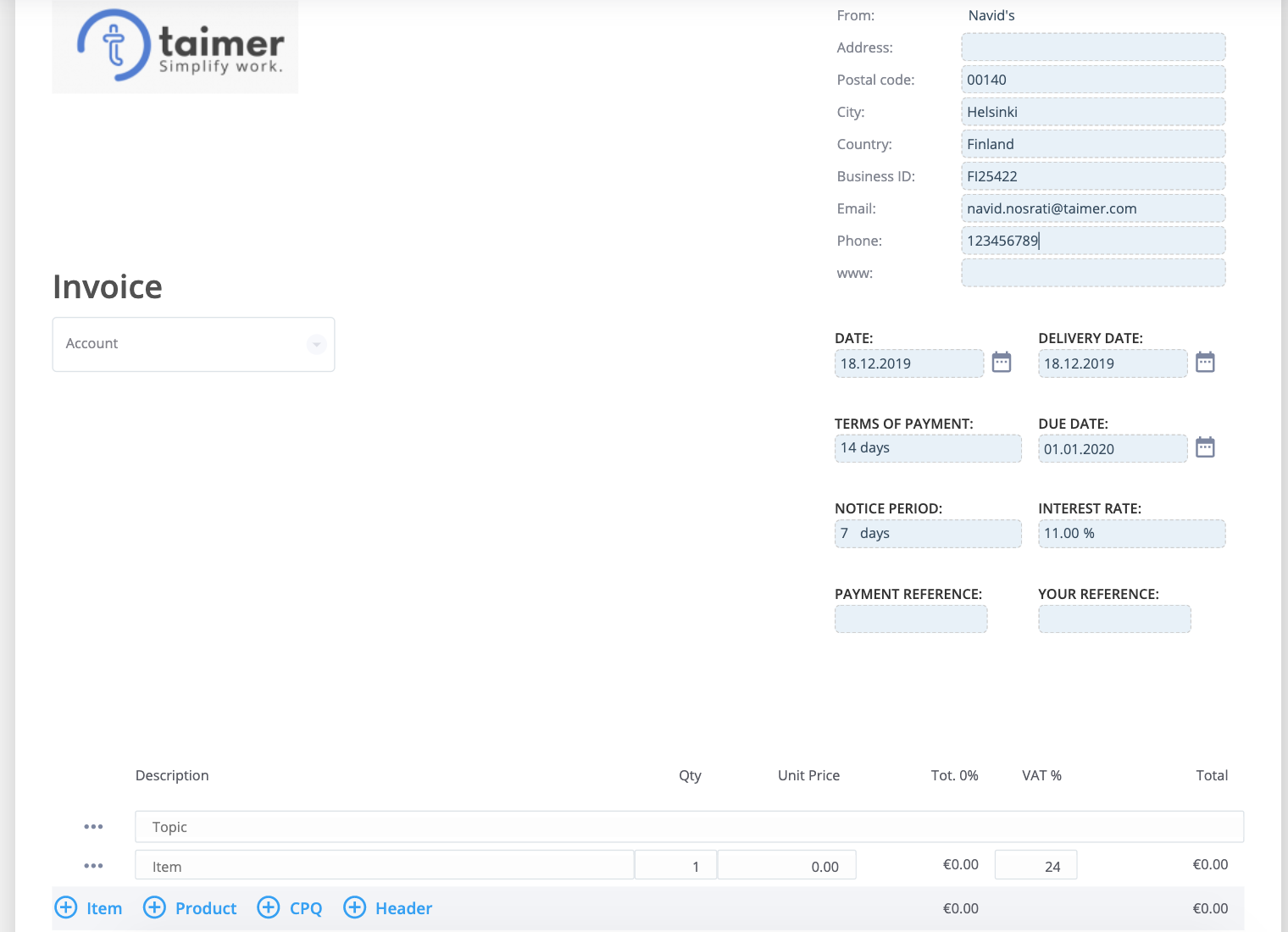 Don't forget to update your bank details in the invoice footer. This will be automatically synced with the Company settings of your Taimer account.

Now let us look at how to add an account or customer. You can either choose an existing customer from here or create a new account by entering the account name. If you need to select a different account, navigate to the Account field on the extreme right.

Now let us see how to add new items to your invoice. To add a header or topic to your invoice, click on the 'Header' option.

Click on the items tab to add a new row. Enter details such as quantity and price in the fields provided. To add a description or to delete a row, click on the 'more options' icon next to the item.

If you have products that need to be invoiced you can add them to the product inventory in Taimer. You can add these products by clicking on the Product tab.

The CPQ option allows you to add the pricing details from the packages that are created in the CPQ module. Visit CPQ settings to learn how to set up CPQ.
This invoice template can also be associated with an existing project if you have any. It can be helpful for project reporting purposes. To do this, choose the Project from the dropdown provided in the right pane as shown earlier.
How to send the invoice
Now that the invoice is ready, let's see how to send an invoice.

Navigate to the top of the invoice template. The 'Save as draft' tab allows you to save your template as a draft, also known as Pro-forma.

If you would like to send an invoice right away. Click on 'Save'. This will move the invoice to the 'Waiting' status and generate an invoice number for tracking purposes. You can then click on Print, to download a PDF copy of your invoice which can be sent to your customer. If needed, you can attach documents to your invoice directly from here.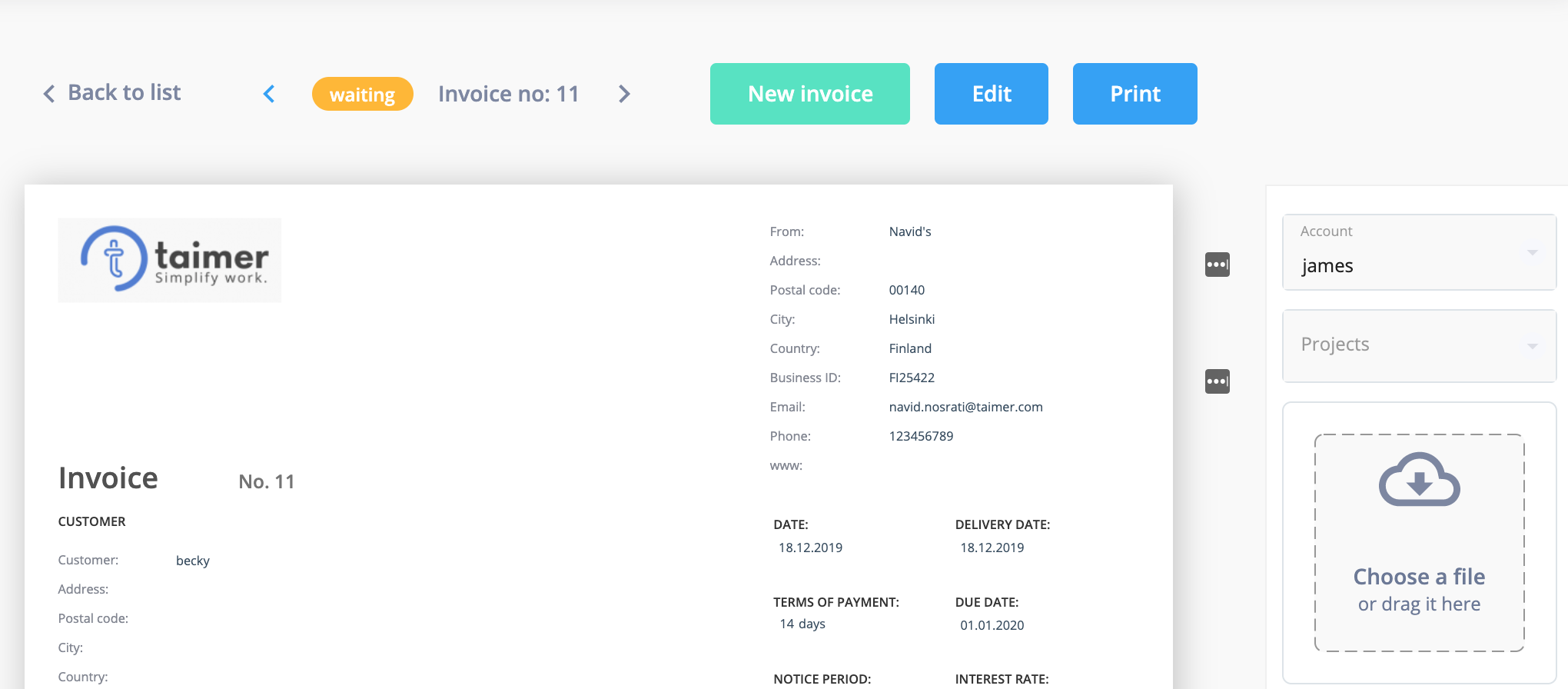 To update the status of your invoice, navigate back to the invoice list. To edit, print or update your invoice status, click on the more options icon. You can even create credit notes and add payment reminders. To learn more invoice status, visit our article on invoice status.