If you add a lot of hours for the same projects, bulk entry gives a quick way to add hour entries, for example 7.5 h for each weekday with the same jobtype and comment. You can quickly add hours after you first save a list of projects to display. The start time for bulk entries is defined in the time management settings.
Permissions: Time tracker > Allow hour entries
Versions: Free(upgrade), Growth, Business, Enterprise, Enterprise+

Add hours in bulk view
Go to Time > Time Tracker > Bulk entry.
Search for projects in the view from the Add project to list menu.
Select the task, jobtype and write the default description, if you want to add the same description for each day.

If you want to add hours for different tasks within the same project, select the ellipsis (...) in front of the row, then Copy the row and select another task.
Here you can also find the option Hide row.


Add the hours in the day fields. You can either enter the number of hours by clicking on the field, or click on the field and select hours and minutes from the menu that opens next to it. Overwriting the default description can be done per entry from the bottom of the menu.

To change the weekdays visible in the list, click on the eye icon in the top right.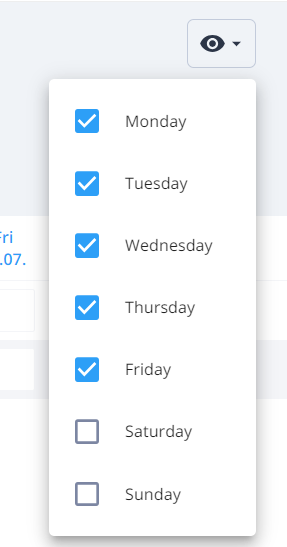 The hours are saved automatically and you can view the week's summary at the bottom.

Manage project list for bulk entry
You can use ready-made project lists to help you in the bulk view. So you don't have to select projects to display individually each time you add hours.
Dynamic project lists for bulk entry
Under the project and list menus, you can click Show list of, from which you can choose your own projects or projects with entries this week in the bulk view.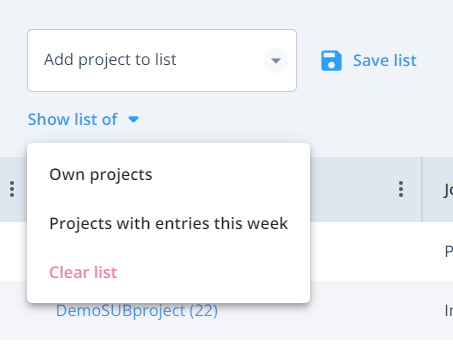 Saving own project list
Go to Time > Time Tracker > Bulk entry.
Select the projects you want from the Add project to list menu.
Click Save List.

Now a window opens where you can either update an existing list (if you have created one) or create a new list. Select the list you want to update or name the new list and click Save.

From the Saved lists menu, you can retrieve your saved list or delete it from the trash can icon.

Add project to favourites
You can add projects as favorites by clicking the star icon. The projects you add move to the top of the list.