Learn how to use Taimer Platform and navigate through the sidebar, top bar, the header functions, and the Taimer settings
Here is a quick overview of the different features and functions in Taimer.
Your Taimer account
Once you sign in to Taimer, you will be directed to your Taimer account. You should have received the company ID and password to the registered email ID. If you're not the administrator for this account, please contact your admin.

The Taimer platform consists of the main page, the navigation sidebar and top bar, the header, and the Taimer Settings page.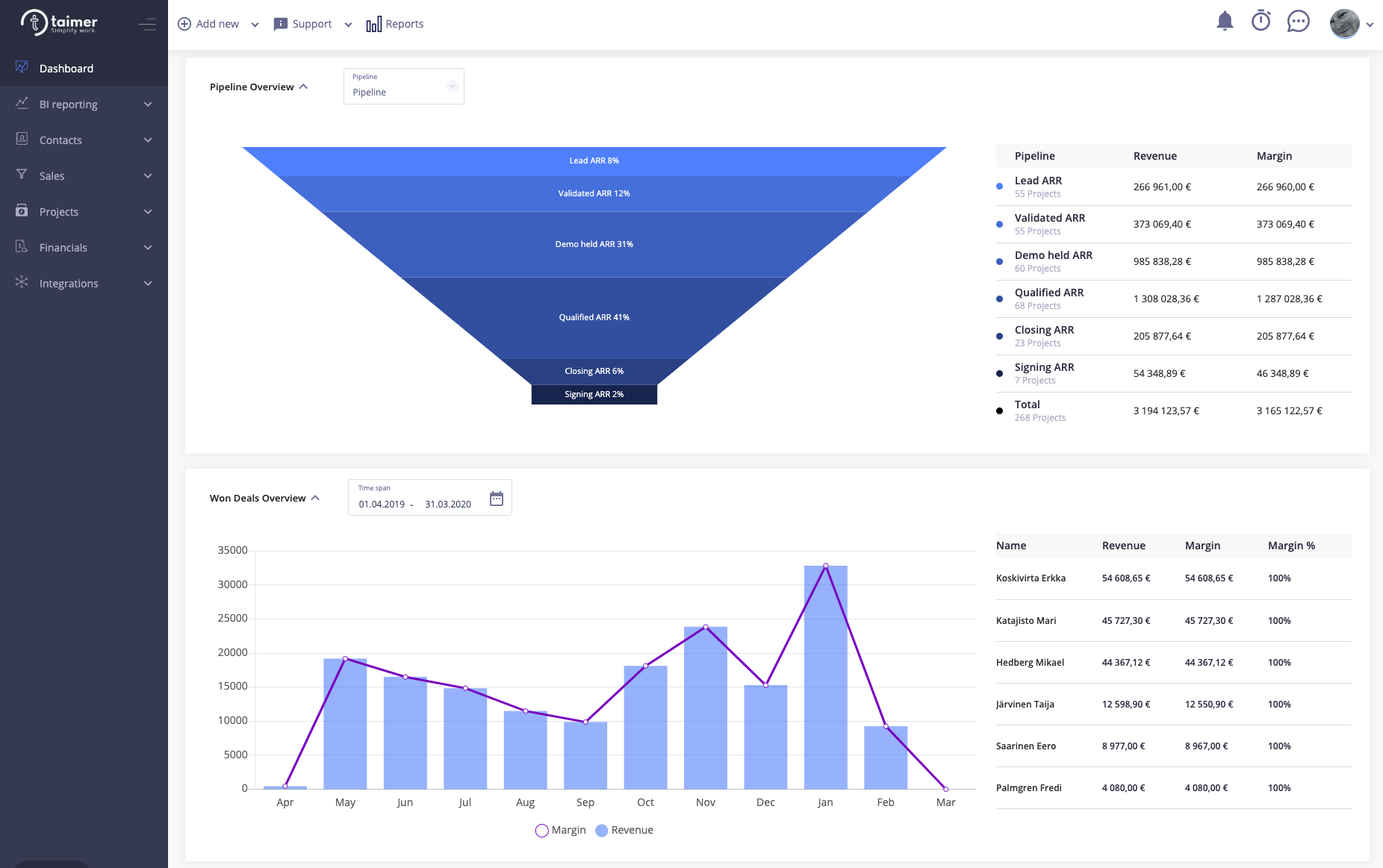 The navigation sidebar
You can access all the features available for your plan from the sidebar. You can either view or edit them, depending on the permissions and the version you have signed up for.
Click on a feature to see the sub-features that are grouped under it. Features that are not available can be easily purchased as an add-on by clicking on the lock icon and following the instructions given.
There are different features available:
My Day (previously the dashboard): a personalized dashboard to view your projects, hours, activities, and tasks

BI reporting: real-time data and actionable insights on profit and loss, revenue, sales, billing, activities, hours, and invoices

Contacts: you will find your customers/accounts, customer contacts, employee contact information and your Taimer users listed here

Sales: your sales pipelines can be created and managed using the list and kanban views, you can even manage your product price list and product specifications from here

Projects: deals that are marked as won can be managed using the list or kanban views. You can also create and manage internal projects here. Time entries can be managed using the calendar view and bulk entry, and the resourcing tab is to manage your tasks, utilization, and resources using the grid, Gantt and list views

Financials: to manage sales invoices, expenses, travel expenses, and bills

Integrations: you can connect Taimer to your chosen email client using OneDrive or Calendar integration, and integrate with various other productivity and accounting software
All features are discussed at length in the feature-specific pages.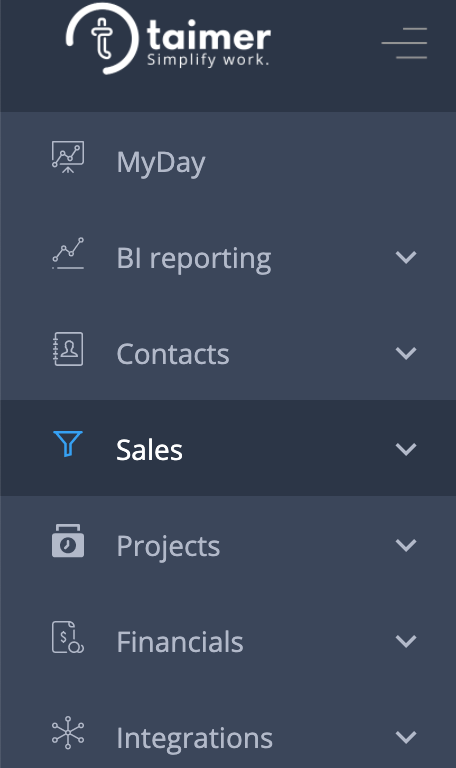 The header
The header consists of multiple functions. These are- Add New, Support, Reports, Notifications, Stopwatch, Taimer Chat and your Profile.

Add new
You can add a lead, activity, expense, travel expense, account, and an invoice from the Add New tab. This can also be done from the feature page of each individual feature.
Support
If you need assistance with navigating through your account, visit our Knowledgebase or watch the video tutorials available in the Support section. You can even chat with us directly from here.
Reports
To view and export company or project-related reports, click on the Reports tab.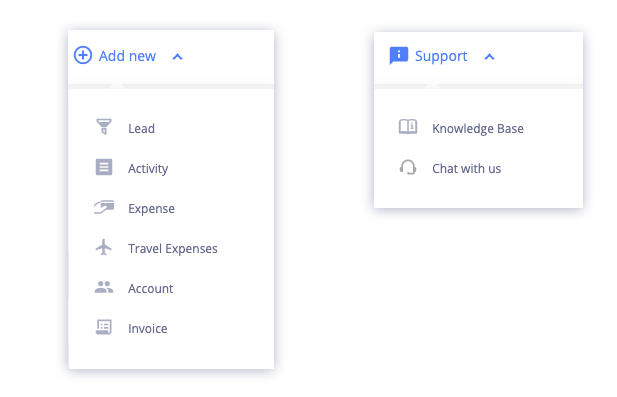 Knowledge Base
Search articles straight from the chatbot and also visit our knowledge base for answers to your questions.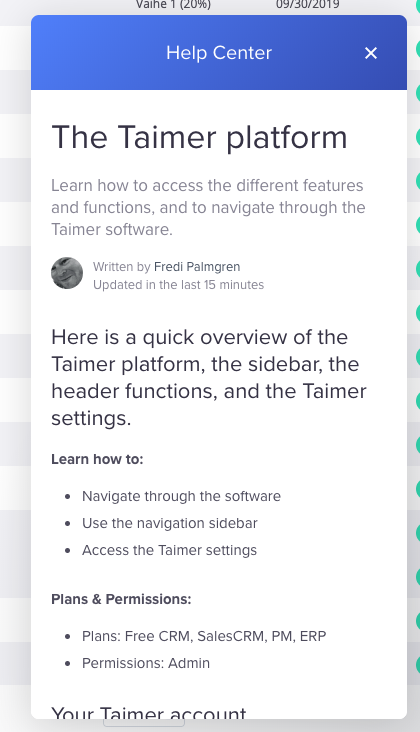 Chat with us
If you need help and want to chat with our customer success team simply click on the support tab in the header and chat with us by starting a New conversation.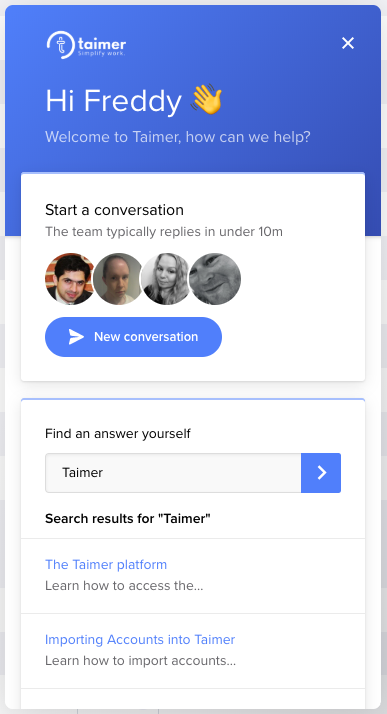 Your profile and settings
You can access your profile and the Taimer settings by clicking on the rightmost icon.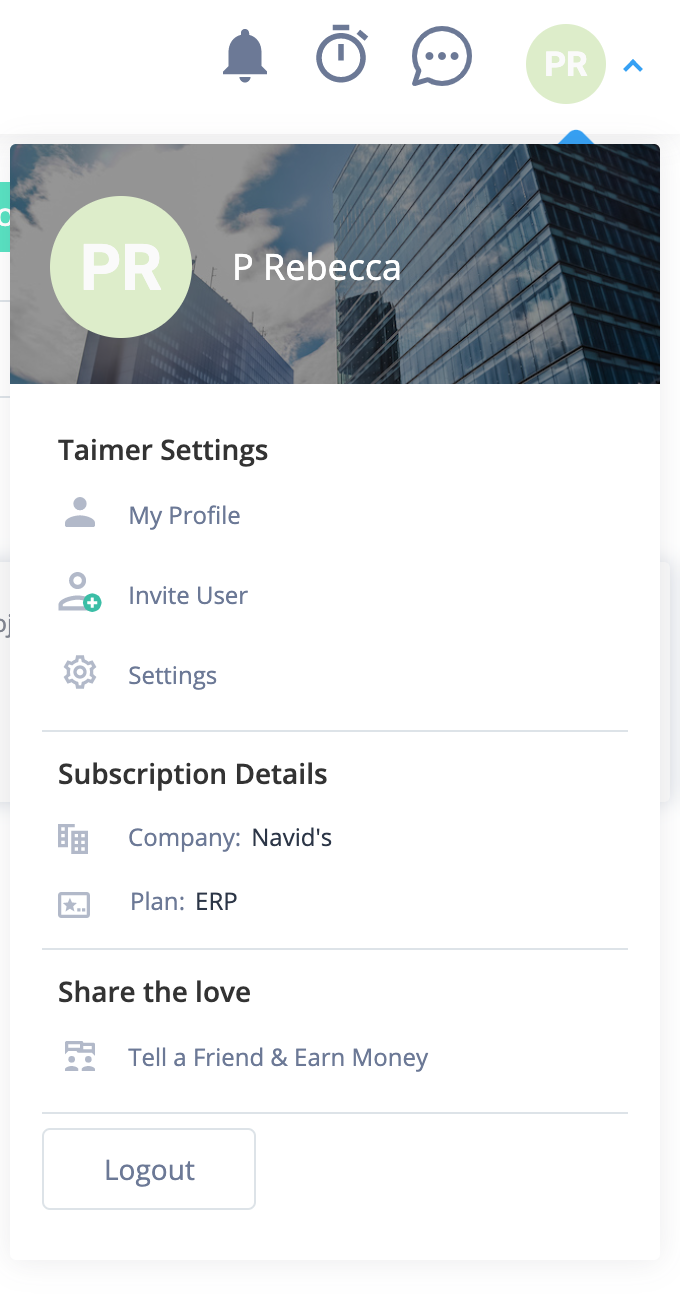 Profile
Before you get started with your Taimer account, we recommend that you update your profile. Click here to learn more about updating your profile and other details.
Invite Users
If you would like to invite new users and set up permissions, you can do so by visiting the Invite user page. Click here to learn more about user management.
Settings
You can access the Taimer settings from here. You can update your company details, access licenses, enable feature settings, upgrade your plan and access all the available integrations from the Taimer settings. To learn more about how to use the Taimer settings, check out the Taimer Knowledgebase.
Subscription details
You can view your subscription details here.
Share the love
Share the love by referring Taimer to a friend or a colleague. You can get some amazing discounts or even win a cash prize for every subscriber that you refer to. Click on Tell a Friend to learn more about our referral program.
Top navigation bar
The feature-specific page has a top navigation bar that has icons and functions for smoother navigation. Click on the icons on the right to switch between different views and to access the feature-specific settings.

You can see which section of the feature page you're currently in and also view the:
Project value: The sum of all selected projects

Project margin: Project margin for selected projects

Hours recorded: Hours tracked to the selected projects
At the top of the page, you can also:
Add a new project by clicking on the green Add Project tab

Export search results that are selected

Switch between list or Kanban views

Specify whether you want to view the results of the selection in the Tree View to include the project hierarchy
Did you know?
Few shortcuts and functions helps to make Taimer usage easier!
Hotkeys to open links in a new tab:

Mac: cmd + mouse click

Windows: ctrl + mouse click

Return default search filters in the lists by clicking ESC key.