Content
Description
Notifications are internal company communication and notes that tell the user when something happens in different parts of the program that may require the user to take action.
You can activate user-specific notifications for desired functions via the settings of your own profile, e.g. events related to hours, invoices, projects and activities. You can specify, for example, that you receive a notification when the hour balance limit has been exceeded or when your supervisor has accepted or rejected your hour entries. Available notifications depend on user permissions.
Permissions: All users
Versions: Free, Growth, Business, Enterprise, Enterprise+
Notifications view
Information about new notifications can be found on the bell icon in the upper right corner.

By clicking on the bell icon, you can see a window where you can see the received notifications grouped by subject area.
By pressing the arrow, you can display the announcements of the selected subject area.
By clicking
Clear read: only notifications that you haven't marked as read will remain on the list.
Clear all: you remove all notifications from the list within the selected subject area.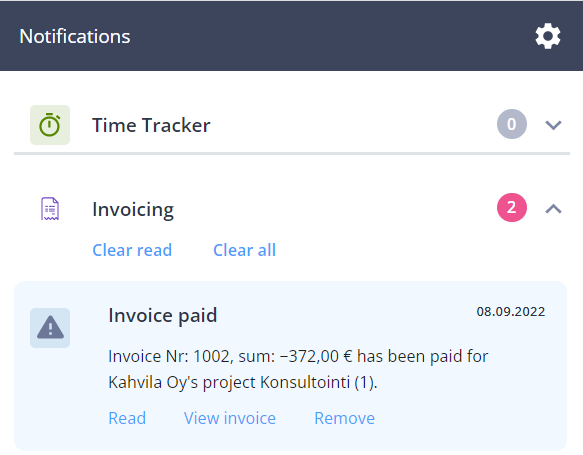 Notifications grouped by subject area
Time tracker notifications:
Read: Mark that you have read the notification. The color of the notification changes and "Clear Read" removes this notification from the list.
Chat: Team chat function opens, you can chat with the user who edited your hour markings.
Remove: Remove notification from the list.
Invoicing notifications:
Read
View invoice: You get directly to the invoice.
Remove
Project notifications:
Read
View project: You get directly to the project.
Remove
Purchase order notifications:
Read
View purchase order: You get directly to the purchase order.
Remove
Activity notifications:
Read
View activities: You get to the activities list.
Remove
Bill notifications:
Read
View bill: You get directly to the bill.
Remove
Expense notifications:
Read
View expense: You get directly to the expense.
Remove
Task notifications:
Read
View resourcing: You get directly to the resourcing view.
Remove