Learn how to set up permissions for individual users and user groups to access the different features and functions in Taimer.
Content
Configure access for individual users

Configure access for user groups
Description
Assign permissions to different users and user groups to control what users can see and do.
Administrator or owner access
When you open a new Taimer account, you are automatically added to the Administrators User Group. The Administrators group is automatically given access to all key features in Taimer available for the plan purchased. If you add a new user to the Administrators group, they will have the same access rights in Taimer. To learn more about user groups, click here.

NB! Access to Administrators group is different from providing Admin access to a user from the Permissions page. Having Admin access only allows the user/user group access to the various settings in Taimer. They still need to be given permissions for all other features unless they are already part of the Administrators user group.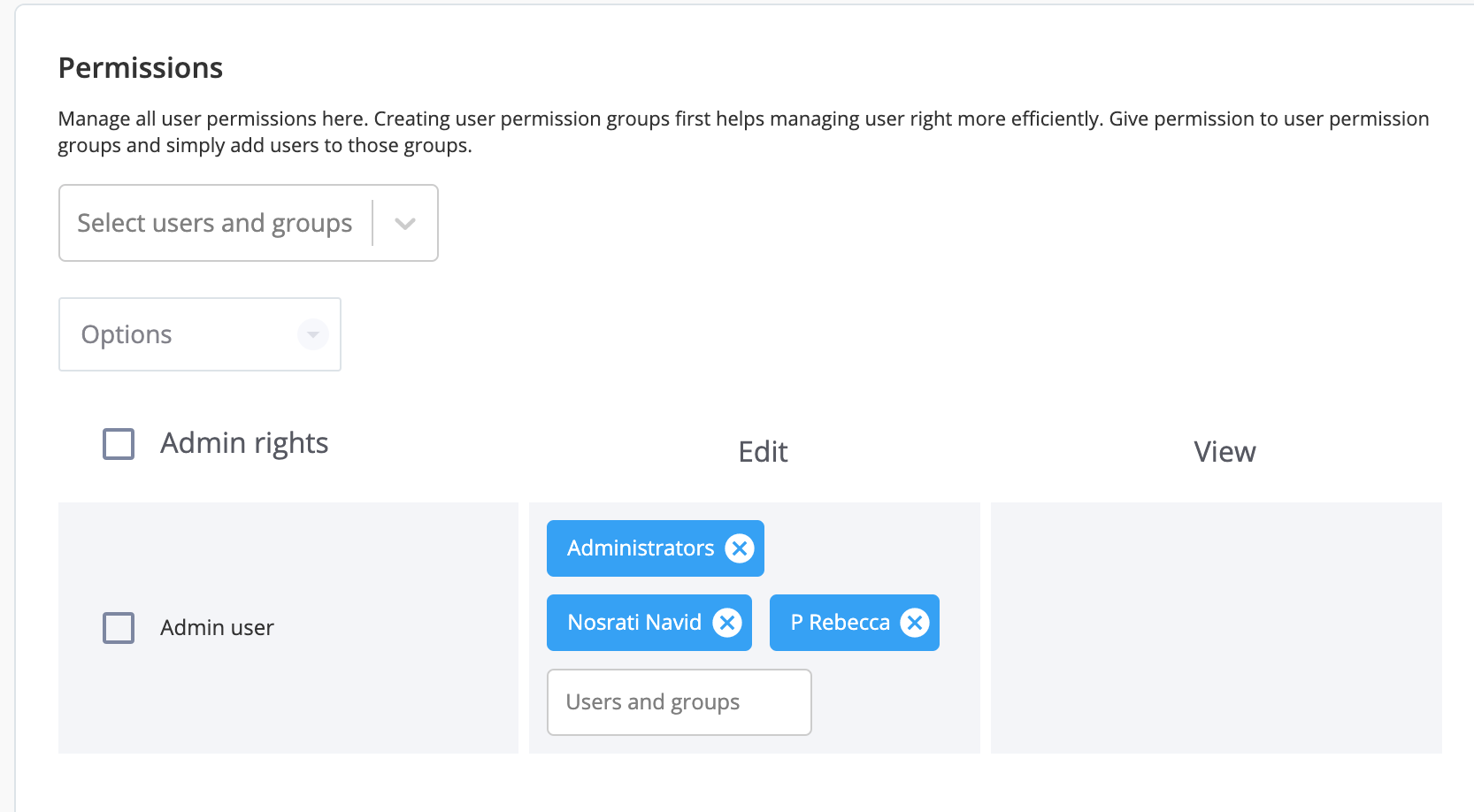 Permissions or Access rights
There are two roles for access to the Taimer software - Users and User Groups and there are two access rights - View access and Edit access.
View access allows users/groups to only view certain features or the changes made, whereas edit access allows them make changes in the account.
Set up view access
Navigate to User Management > Permissions from your Taimer settings

Navigate to the View column

Select the user or user group from the dropdown to provide View access for the selected feature

Set up edit access
Navigate to User Management > Permissions from your Taimer settings

Navigate to the Edit column

Select the user or user group from the dropdown to provide Edit access for the selected feature

To provide access to multiple features
Navigate to User Management > Permissions from your Taimer settings

Click on the checkbox next to the features

Navigate to Select users and groups tab in the header

Select the user or user group from the dropdown

Now click on Options to add or remove permissions for the selected features